FOR ONLINE APPOINTMENTS,
OR
ON
+971 600 52 4442
DUBAI
|
SHARJAH
|
ZMC
|
ZMECR
ENGLISH
|
عربى
BOOK AN APPOINTMENT / TELECONSULTATION
Patient Login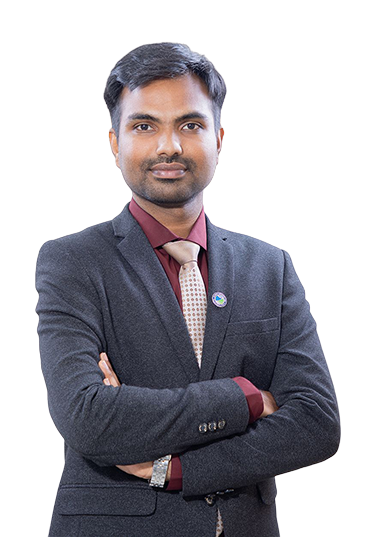 Dr. Sathish Kandasamy
MBBS, MD, DNB (Radiology), DM (Interventional Radiology)
Specialist Interventional Radiology
Work Experience
Dr Satish has over seven years of experience in the field of advanced Therapeutic Neurointerventions in various brain and spinal vascular disorder and peripheral vascular interventions. He has good experience in neuro-interventional procedures, with expertise in diagnosing & treating complex neurovascular malformations like acute stroke, aneurysms, AVM, DAVF, and Carotid stenosis. He also specialises in peripheral vascular interventions like angioplasty, stenting, and image (USG/CT) guided non vascular interventions.
Prior to joining to Zulekha Hospital Dr Sathish worked in various hospital and medical centres in India that includes Royalcare Super Speciality Hospital and GKNM Hospital. He has also served as Senior Registrar – Radiology in JIPMER, Puducherry and in Sree Chitra Tirunal Institute for Medical Sciences and Technology (SCTIMST), Trivandrum.
Dr Sathish earned his MD Radiology from Jawaharlal Institute of Postgraduate Medical Education and Research (JIPMER), and DM Neuroradiology from Sree Chitra Tirunal Institute for Medical Sciences and Technology (SCTIMST). He completed his DNB Radio Diagnosis, NBE from New Delhi. He obtained his MBBS degree from Tirunelveli Govt Medical College, Tirunelveli.
Languages Spoken
Special Interests
Neurointervention
Endo Vascular treatment of:
Acute Stroke (Mechanical Thrombectomy/ Intra-arterial thrombolysis/ rescue stenting)
Aneurysm Coiling, balloon assisted, stent assisted. Flow diverter placement.
Cerebral AVM/ AVF Embolization- Cranial dural AVF, cerebral Arteriovenous malformations (AVM)/Pial AVF
Spinal Vascular Malformation- spinal dural AVF, Spinal Arteriovenous malformations (AVM)/AVF
Carotid/ vertebral artery Stenting
Peripheral Vascular Interventions
Peripheral vascular disease - Angioplasty and stenting
Bronchial artery embolization for hemoptysis
Uterine artery embolization for PPH and fibroids
Tumor embolization
Transarterial chemoembolization (TACE) for Liver tumors (Hepatocellular carcinoma)
Acute limb ischemia (Thrombectomy and/or Intra-arterial thrombolysis)
Acute gastrointestinal hemorrhage
Venous interventions for Budd-Chiari syndrome
IVC filter placement for DVT.
Varicose vein treatment - Laser / RFA
Non-Vascular Interventions
Image guided (USG/ CT) guided FNAC/ Trucut Biopsy
Percutaneous transhepatic biliary drainage (PTBD) and Antegrade biliary stenting
Percutaneous nephrostomy (PCN) and Antegrade DJ stenting
Radiofrequency ablation for Liver/ lung tumors
Research / Publications
Kandasamy S, Kannath SK, Enakshy Rajana J, Kesavadas C, Thomas B. Non-invasive angiographic analysis of dural carotid cavernous fistula using time-of-flight MR angiography and silent MR angiography: a comparative study. Acta Radiologica. 2022 May 9:02841851221097462.
Padhi R, Kandasamy S, Gnanashanmugam G, Kocer N, Kramadhari H. Mechanical Thrombectomy in Takayasu Arteritis by Direct Carotid Puncture. Canadian Journal of Neurological Sciences. 2022 Feb 28:1-3.
Kandasamy S. An unusual presentation of COVID-19: acute pancreatitis. Annals of Hepato-biliary-pancreatic Surgery. 2020; 24(4):539–41.
Kandasamy S, Govindarajalou R, Chakkalakkoombil SV, Penumadu P. Isolated hepatobiliary tuberculosis: a diagnostic challenge. Case Reports. 2018;2018:bcr-2017
Kandasamy S, Samuel J, Raja B, Padhi R, Sadasivam S. The Pool sign in Metastatic Adenocarcinoma of Brain. Canadian Journal of Neurological Sciences. 2021;48(4):553–4.
Padhi R, Kandasamy S, Kumaran B, Kocer N, Karmadhari H. Direct Superior Ophthalmic Vein Approach to Treat Anterior Condylar Confluence Dural Arteriovenous Fistula. Neurointervention. 2021;16(3):280.
Padhi R, Kandasamy S, Kumaran B, Bheemarao PM, Kumaran S. Endovascular Management of Iatrogenic Vertebral Artery Transection During Anterior Cervical Spine Surgery: A Case Report. Neurospine. 2021;18(1):245.
Padhi R, Kandasamy S, Kumaran B. Three-Dimensional Intraarterial Vaso Computed Tomography Depiction of Pipeline Flex with Shield Technology Flow Diverter Stent in Ruptured Blister Aneurysm of Supraclinoid Internal Carotid Artery. Journal of Clinical Interventional Radiology ISVIR. 2021;
Senthilvelan S, Kandasamy S, Chandrasekharan K, Thomas B, Deepti A. Unusual imaging appearance of a rare cortical ependymoma mimicking angiocentric glioma. Neurological Sciences. 2020;41(7):1935–8.
Senthilvelan S, Kandasamy S, Menon RN, Nampoothiri S, Ramachandran H, Thomas B, et al. Methylenetetrahydrofolate Reductase Deficiency as a Cause of Treatable Adult-onset Leukoencephalopathy and Myelopathy. Clinical Neuroradiology. 2021;31(1):277–81.