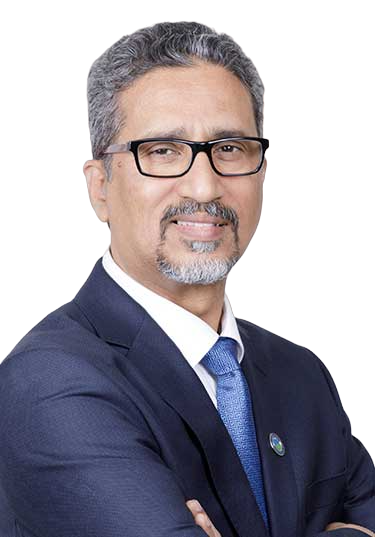 Book an appointment
Dr. James Zachariah Pulimuttil
MS FACS, FICS, FMAS, FIAS, Fellowship in Metabolic and Bariatric Surgery
Specialist General Surgeon- (Bariatric, Metabolic & Advanced Laparoscopic Surgery)
Work Experience
Dr. James Zachariah graduated in medicine in 1984 and has 24 years of surgical experience following his surgical residency in 1992 from Christian Medical Colleges, Vellore and Ludhiana.
Dr. Zachariah, received the award of OUTSTANDING INTERNATIONAL BARIATRIC FELLOW 2015, at Taiwan, for his excellent work and contribution in the field. He was trained in Bariatric Surgery in Asia Pacific Bariatric and Metabolic Surgery Center, MIN-SHENG HOSPITAL, TAIWAN under Dr. Wei-Jei Lee, a world renowned Bariatric and Metabolic surgeon. He has more than 15 years of experience in Laparoscopic surgery and has done over 160 bariatric procedures successfully so far.
Dr. Zachariah has done considerable research in bariatric and metabolic surgery and has published several papers in the international journals as a first author and co-author and has also presented several papers in the international bariatric surgery conferences.
Prior to joining Zulekha Hospital, Dr. Zachariah was the Head of Dept, of General and Laparoscopic Surgery in Care Hospital, Vizag, India.
Languages Spoken
English
Hindi
Malayalam
Telugu
Tamil
Special Interests
Laparoscopic Sleeve Gastrectomy. (HIDDEN SCAR TECHNIQUE)
Laparoscopic -Gastric Bypass. ( HIDDEN SCAR TECHNIQUE)
ENDOSCOPIC BALLOON FOR OBESITY - WEIGHT LOSS
Laparoscopic Hernia Surgery -(Inguinal, Incisional And Umbilical)
Laparoscopic Surgery For Gall Stone Diseases, CBD Exploration
Laparoscopic Colectomies (Large bowel surgery)
Thyroid Surgery - MIVATS ( Key Hole Thyroid Surgery)
Research / Publications
Compared to Sleeve Gastrectomy, Duodenal–Jejunal Bypass with Sleeve Gastrectomy Gives Better Glycemic Control in T2DM Patients, with a Lower β-Cell Response and Similar Appetite Sensations: Mixed-Meal Study (FIRST AUTHOR, Obesity Surgery 2016 May 2. (Epub ahead of print.)
Preoperative Predication of Type 2 Diabetes Remissionafter Gastric Bypass Surgery: A Comparison of Diarem Scores and ABCD Scores. (CO-AUTHOR, Obesity Surgery 2016 Mar 2. [Epub ahead of print.)
Response to the Comment: Laparo-Endoscopic Gastrostomy (LEG) drainage in the management of Gastric leak following Sleeve Gastrectomy. FIRST AUTHOR, Obesity Surgery - 2016 Mar;26(3):622-3.
Laparo-Endoscopic Gastrostomy (LEG) drainage in the management of Gastric leak following Sleeve Gastrectomy. FIRST AUTHOR, Obesity Surgery 2015, Nov;25(11):2213-8.
ABCD score in predicting the long term remission of T2DM following Metabolic Surgery (IFSO- APC 2015, S. Korea) - paper presentation
Metabolic surgery in non-obese Asian T2DM patients. (IFSO- APC 2015, S. Korea) - paper presentation
Gastric Bypass surgery in Type 1 Diabetes Mellitus- A case report. (IFSO- APC 2015, S. Korea) - paper presentation